Geologos is an international, peer-reviewed journal publishing research results and review articles covering all earth-science disciplines, with a focus on the geology of central and eastern Europe.
Our papers are visible on Web of Science and Scopus
Current (2022) metrics:
IF = 1.0
SJR = 0.24
CiteScore (cites/publication) = 1.9
SNIP = 0.32
Score of the Ministry of Science and Higher Education = 40
All publications in the GEOLOGOS journal are free of charge. After the decision of acceptance, we provide free linguistic proofreading. Articles are published no later than three months after acceptance.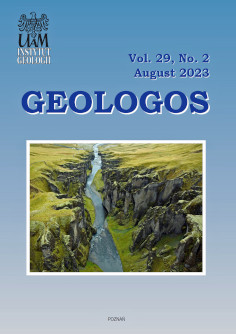 ×

Methodological add-ons to a non-destructive, micro-CT-based taxonomic/morphometric analysis of characean remains - - Réka Benyó-Korcsmáros, Sándor Gulyás, Dániel Sebők, Dániel Benyó, Péter Cseh & Pál Sümegi
Full text
Pre-Variscan palaeogeographical structures in the Cantabrian Zone, Spain: some critical considerations regarding their origin, location and significance - - Gerard B.S. van Loevezijn
Full text
Analysis of proposed geosites in the Betong District, Yala Province, Southern Thailand - - Dony Adryansyah Nazaruddin, Vimoltip Singtuen, Nor Bakhiah Baharim & Muhd Nur Ismail Abdul Rahman
Full text
The role of oxygen in the functioning of the Earth system: past, present and future - - Wojciech Stankowski
Full text
Climate change and life: The complex co-evolution of climate and life on Earth, and beyond - - Li Fu Full text
Vesiculation and crystallization of magma: fundamentals of the volcanic eruption process - - Claudio Scarpati Full text
A Dictionary of Geology and Earth Sciences (5th Edition) - - Błażej Berkowski Full text