Geologos is an international, peer-reviewed journal publishing research results and review articles covering all earth-science disciplines, with a focus on the geology of central and eastern Europe.
Our papers are visible on Web of Science and Scopus
Current (2020) metrics:
SJR = 0.254
CiteScore (cites/publication) = 1.7
SNIP = 0.441
Score of the Ministry of Science and Higher Education = 40
All publications in the GEOLOGOS journal are free of charge. After the decision of acceptance, we provide free linguistic proofreading. Articles are published no later than three months after acceptance.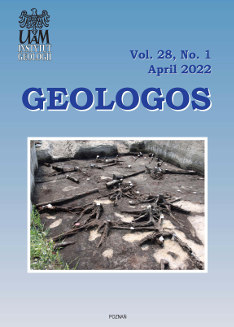 ×

Geological and palaeogeographical peculiarities of the Adamów Graben area, central Poland - - Marek Widera, Danuta Dzieduszyńska & Joanna Petera-Zganiacz
Full text
Tectonomagmatic settings of Jurassic granitoids in the Sanandaj-Sirjan Zone, Iran: A review - - Mohammad Hassan Karimpour, Nargess Shirdashtzadeh & Martiya Sadeghi
Full text
Characterisation of potholes formed on bedrock sandstones at Loei Dun, Phetchabun Geopark, Thailand - - Vimoltip Singtuen & Thitaree Junjuer
Full text
Bank filtration for climate resilience: potentiality of a new site along the Ismailia Canal in Egypt - - Kamal Ghodeif, Rifaat A. Wahaab, Thomas Grischek, Hana Afifi & Neveen Wahsh
Full text
Textural characteristics, mode of transportation and depositional environment of the Stormberg Group in the Eastern Cape, South Africa: evidence from grain size and lithofacies analyses - - Priscilla Chima & Christopher Baiyegunhi
Full text